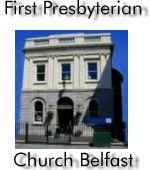 B elfast First Presbyterian Church the oldest church in the centre of Belfast, N. Ireland welcomes you to its homepage. This church, dates from when Belfast was founded in the 17th century – the church was founded in 1644 and the congregation earlier still. The church is Non-Subscribing Presbyterian – that is to say it does not subscribe to the Westminister confession of faith, in other countries the closest type of church is Unitarian.
Get in touch we like to hear from those who visit our site, so feel free to email us ([email protected]) there will be a proper contact form on the site soon.
Links this page contain links to sites that have provided a link to this site including Yahoo
Inbox – First Church receives some strange email, some of it is from brothers in Nigeria who have a large sum of money they'd like to give us… other unsolicited email cannot be so easily classified. No genuine inquiries will appear in Inbox however those who send unsolicited spam about whatever will certainly appear in an online version of the stocks, email addresses will be included.
Summer recitals held throughout the summer month at 13:30 in First Church these have now concluded – click here to learn in what other ways First Church and member of its congregation help the community,
Downpatrick in the Irish language means Fort of Patrick – the word Dun means fort.
Site tested and known to work with Netscape 4.7, Internet Explorer 5.5, 4.5, 5.0 Macintosh OS 9.0, 8.5 Windows 2000, and Windows 98, if you have any problems with this site please e-mail the webmaster