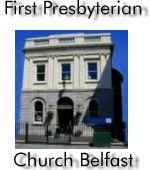 Virtual tours
These are provided by specialist virtual tour company 360sphere.com, click on the button beneath to launch a virtual tour of Belfast @ midnight. There will be a virtual tour of inside the church featured in due course.
Please click on picture below to launch tours – each panorama takes 2 – 3 minutes to load

see an exclusive bubble panorama of St Patrick's grave in Downpatrick Co Down Northern Ireland.

New on Saturday 24th November in First Church the West Ocean String Quartet gave a concert. click on the image on the left, and find out what the church looks like as a concert venue – as it was pretty dark we've got a link to another view of the view of the church in the day time. NOTE this is a virtual tour and may take a minute to load.
Problems? if you cannot see the tour above click on either the Netscape or Internet Explorer buttons below for a cure: